During the virtual premiere of the 2021 Peoria Area Association of REALTORS® Awards Ceremony last night, Designated Managing Broker of Crowne Realty Morton, Shannon Gaunt, was awarded the Act of Kindness Award. She was nominated by Executive Vice President, Tammy Heard.
The Act of Kindness Award was presented by Peoria Area Association of REALTORS® CEO, Reginia Tuttle and this is her speech:
"Shannon Gaunt is the president of Gaunt Enterprises, a Trucking and Excavating Company in Illinois. Her husband, Richard, was killed June 23, 2020 while on the side of the road, in a construction zone, securing the load on his trailer. The driver of the truck did not slow down or move over and Richard was hit from behind, killing him instantly. Their sons Shane, 29, and Ross, 25 are also in the construction industry.

The family wanted to raise awareness for road construction safety and created a fund in Richard's name which raised over $21,00o. They were honored to receive a donation from Construction Angels and they worked to bring Construction Angels to Illinois to help other construction families in the state. Shannon recently hosted a Facebook Fundraiser for her birthday raising an additional $3,800.

On August 18th, the Construction Angels National Board of Directors unanimously voted  Shannon to be  part of its charity, helping families in  the state of Illinois and joining as the organization's state representative. Shannon accepted the opportunity to become an Angel turning a terrible tragedy into a new passion. Because of Shannon, Construction Angels will be in 13 states before the end of this year."
Congratulations Shannon!
Watch the entire segment for Shannon's award below.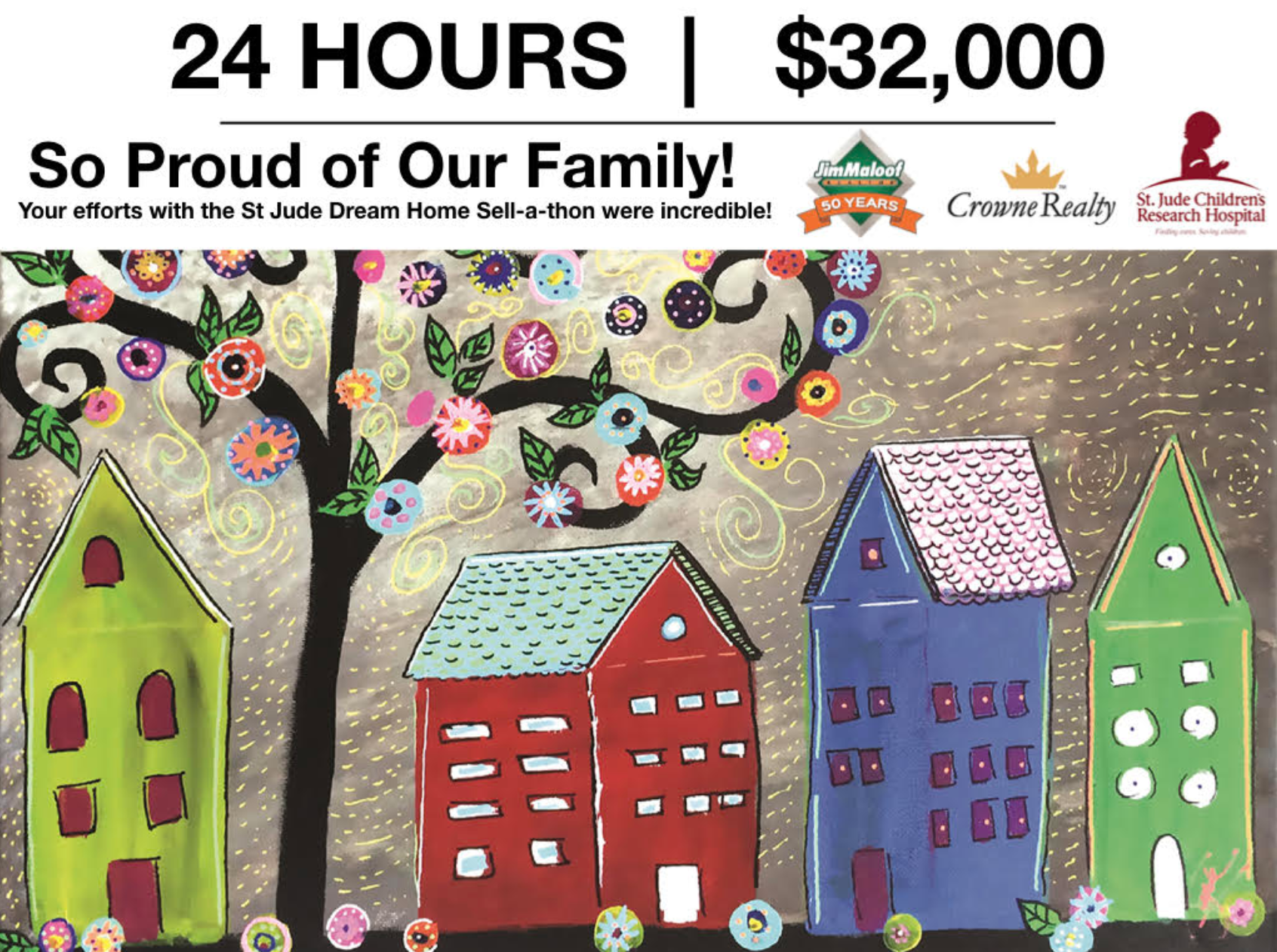 In just a couple of days from the moment the St. Jude Fundraising Office asked Michael Maloof for his Company's help, agents from Jim Maloof /REALTOR and Crowne Realty had mobilized and were ready for the challenge…and they did it for the Kids of St. Jude – continuing a long legacy of care, started by their founder, Jim Maloof.
You see, ticket sales for one of the area's largest annual fundraising events for St Jude, The Dream Home Giveaway were alarmingly slow due to setbacks resulting from the Covid-19 crisis. Not sure of how to salvage the event – without the ability to gather physically for a true telethon – and with restrictions placed on almost all of their fundraising efforts – St. Jude reached out to a strong ally: Jim Maloof/REALTOR and Crowne Realty. They knew that these two companies were passionate about their support for St. Jude and knew that they could be counted on to step up to meet the challenge. So, the team quickly put together a plan and, on short notice, started making phone calls to their spheres of influence. What happened was nothing short of amazing…
While still balancing their own workloads, already stressed by Corona Virus limitations and protocol, agents reached out to clients, friends, family members, local leaders and fellow Realtors and, in less than 24 hours, managed to sell $32,000 in Dream Home Giveaway tickets. Within 48 hours, all of the tickets for the Giveaway were sold out.
Many agents from both companies participated. In particular, the efforts of Lorrie Palladini, who generously accounted for 55 of the 320 total tickets sold and Suzanne Miller, the top ticket-seller with 74 tickets and winner of an iPad donated by Adam Perkins courtesy of Home Warranty Inc. captured the spirit of Jim Maloof's love for this charity – and the mission he passed onto his son, his family – and most who came in contact with him – to eradicate these awful diseases that steal our children in the dawn of their lives.
Jim Maloof/REALTOR and Crowne Realty wish to thank everyone involved: those who sold tickets, those who purchased tickets, the amazing Staff at the St Jude Fundraising Office, the local vendors who donated the prizes and everyone who supports St. Jude Children's Research Hospital throughout the year.
The leaders of a newly combined real estate company are bullish on the housing markets in Bloomington-Normal and Peoria, despite slowing sales and a dip in prices in 2019.
There were 2,408 home sales in McLean County in 2019, down 6.2% from 2018, according to Illinois Realtors. The average price of a home fell 3.6% to $159,000.
Low inventory continues to be a drag on the Bloomington-Normal market, especially in the $150,000 to $275,000 price range, said Tammy Heard, executive vice president at Peoria-based Jim Maloof/Realtor, which recently merged with Heard's Bloomington-based Crowne Realty. There's also been less corporate relocation, she said.
CLICK HERE to the read the full story on WGLT.com and listen to the interview!